Active Emergency Belt Control
AEBC
Occupants are being prepared for an accident or emergency brake by triggering a reversible electro-mechanical belt tensioner.
Haptic warning for occupants in hazardous situations
Seatbelts and airbags are fully effective if occupants rest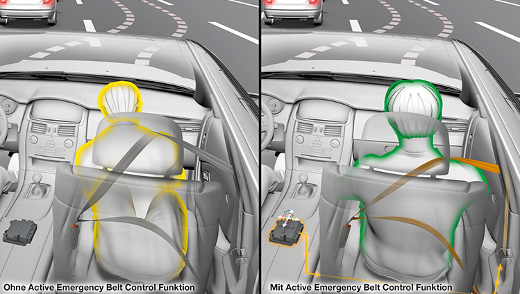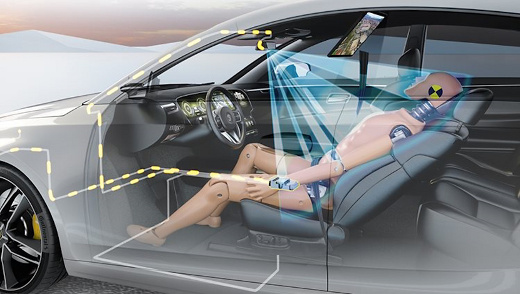 The Occupant Safety Monitor acts as a permanent monitor of the environment in the vehicle in terms of safety. The information of several suitable sensors (e.g. camera, radar, position/weight sensor data from sensor systems, etc.) results in a complex sensor fusion model. By means of this model optimum deployment strategies for the restraint systems are permanently being calculated - individually for each occupant.

It gives important information to the deployment strategy of restraint systems and is suitable for new restraint concepts. The monitor detects whether occupants are too close or too far to the airbag (Lean Backward Warning, Lean Forward Warning). Body structure including the direction of the head also is being detected.
In case of an accident activates the restraint systems specific to the occupants' situation
Pre-conditioning of restraint systems individually for each occupant
Adjustment of seat position, belts and airbag thresholds
Passive Safety for AD using new interior concepts at all types of L3-L5 autonomous cars
Occupant detection, especially children (Child Presence Detection) via radar and/or camera
Sensor fusion of camera, radar & seat position
850 nm or 940 nm
Includes a global shutter camera with IR illumination
Camera functions: Head pose and orientation; eye lid movement; gaze sector analysis; driver identification
Use of Road AND Driver camera data possible
Function can be integrated into the Airbag Control Unit (ACU) Premium
Learn more about our products
Do you want to know more?